Bitesize Guide to France Holidays from I Spy Camping
I Spy Camping brings you a definitive bitesize guide to France. Every year hundreds of thousands of us venture south to France to enjoy the French outdoors. Whether that is camping under canvas, in a mobile home or caravan.
This guide aims to give you the inspiration to explore more of France and through I Spy Camping's price comparison engine, help you to save time and money by offering you the opportunity to compare the price and availability of camping holidays available in your chosen French resort.
You may also be interested to know what our facebook fans have been recommending, here are their recommendations for where to go on a family camping trip to France and these are the blogs on France they recommend you read before you go.
We have also been busy compiling our guide to successful Family Holidays, and in particular, how to survive the 6-week school summer break. The guide gives you ideas on what fun activities to do each week at little or no cost.
We have added more guides, including a guide to dog-friendly campsites and information about the pet passport rules change and also a guide to campsites in France for Students.
Our camping guides by region
Latest camping guides available...
Visit Cote d'Azur, France - Frejus
Fréjus, on the east bank of the river Argens estuary and its flood plain, is an animated and long-established little beach resort, popular with families.
It is close to the Esterel hills and makes a good base for coastal drives.
The middle of the town, 3km (2 miles) inland, consists of 17th- to 20th-century districts around an old quarter of narrow streets, many now traffic free or with restricted traffic. At the heart of the old town is the lovely Cité Épiscopale (cathedral close), with a medieval cathedral, cloisters and fifth-century baptistery. Read more about Frejus in our guide to the Cote d'Azur & Provence
---
Visit the Dordogne, France - Sarlat
This beautifully restored golden-stone town is now one of the most popular places in the Dordogne.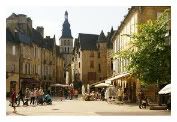 Set in the heart of the Périgord Noir area, Sarlat is renowned for its gastronomy, and devotees of foie gras and other delicacies make regular pilgrimages to the town's specialist suppliers and restaurants. But the town itself is also an attraction.
Apart from the nondescript rue de la République, Sarlat looks much as it must have done in its Renaissance heyday, with narrow winding alleys and passages wriggling between well-preserved town houses. Read more about Sarlat and the Dordogne
---
---