Guide to Holidays in Scotland
A Nation of Striking Landscapes
This, the most northern of the United Kingdom's nations, packs so much into a small area. From glistening lochs, medieval castles, majestic mountains, wild moors and a shoreline that features golden sands and palm trees, Scotland is waiting to be explored, over and over.
A trip north of the border is rarely a disappointment, whether it is a visit to its two main cities of Edinburgh and Glasgow, the former being the capital, or a break in the highlands, sparsely populated by people, but where nature is untamed and brings to life spectacular landscapes.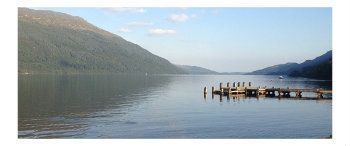 Before we carry on, no introduction to Scotland is complete without a mention of the weather. And, whilst you can't do anything about it, make sure you plan ahead for eventualities and if possible, include some indoor activities for the family and pack warm and waterproof clothing. If you are camping in a tent, then you will need to be especially prepared and probably already know how to handle inclement weather. Don't let Scotland's reputation for less than favourable weather put you off a visit; it is part of its charm and embracing it is part of the experience.
Don't think that Scotland is just a place to go sightseeing; if you are active, adventurous and keen try to new things then you are in for a treat. Amongst the many activities on offer are Canyoning, Mountain Climbing, Sailing, Skiing, Trekking and Salmon Fishing.
Touring around Scotland by car is a great experience; there is a good mixture of motorways, A-roads and quieter B-roads that take you away from it all and into the heart of the Scottish countryside. In fact, some of the finest scenery can be seen only from single track roads and as was the case on one trip, a remote single track road that ended with a small car ferry across to the Isle of Skye â€â€œ we chose to take the ferry across than turn around.
Don't be tempted to cover most of Scotland in one short break, there is plenty to see and do in each area and your patience will be rewarded.
There are a good number of campsites in Scotland for you to choose from, many offer just pitches for tents and caravans, other offer 2 or 3 bedroom static caravans. If you are looking for more activities on-site try choosing from our holiday parks in Scotland.
Our camping blog on Scotland contains many of our stories from trips that may give you some inspiration and ideas.
Scotland's 10 Most Popular Attractions
1. Edinburgh Castle - towering over the capital city, the castle is Scotland's most important historical and cultural landmark
2. Loch Ness - World famous for its monster is the longest loch in Scotland and part of the Caledonian canal.
3. Glencoe - A magnificent mountain landscape, attracts visitors from all over the world.
4. Glasgow Science Centre - a museum full of spellbinding and interactive exhbits. Dare you to be wowed.
5. Isle of Skye - A wild, magical and beautiful island within easy distance of the mainland
6. The Cairngorms - A woodland area full of great views and has the accolade of being the highest landmass in Great Britain. A winter sports enthusiasts paradise.
7. Our Dynamic Earth - Enter this tent for an electrifying exhibition of nature's power, from Volcanic terrain, Tropical downpours and Glaciers.
8. Storybook Glen - A family theme park near Aberdeen with giant-sized storybook characters.
9. Edinburgh Zoo - One of the top of zoo's in the world, with over 1,000 animals to be seen.
10. Eileen Donan Castle - Restored in the 1930's, this is not the most photographed castle in Scotland for its magnificent setting.
Now visit our blog for Scotland's best kept secrets
---
---