Camping in France With Your Own Tent or Caravan
Here are some great featured destinations to try...
We have a large range of destinations for you to go camping in France with your own tent. Use our tools to help you gather ideas, plan your trip and point you in the right direction of where to book with the best prices.
It is true to say that camping holidays these days for a lot of people doesn't just mean sleeping under canvas, staying in a mobile home on a campsite, enjoying the outdoor life with a touch of luxury has become the camping norm for many. Campsites are also devoting more and more space to mobile homes and glamping accommodation, meaning you have less choice than before as the number of pitches specifically for people who bring their own tents has reduced significantly over the last decade,
Whilst your options may be more limited now, there are still some great campsites in France to pitch up your tent and we want to highlight some of these to you below.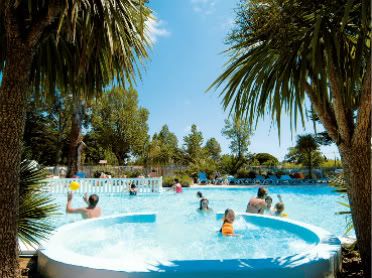 5 star Le Saint-Hubert on the Ile d'Oleron, Charente Maritime.
Pictured above is one of the many excellent campsites on offer from Vagues Oceanes where you can book a pitch for your own tent. Others include:
- Le Rosnual 5*, Carnac, Brittany
- Les Blancs Chenes 5*, Vendee
- La Linotte 3*, Dordogne
- Le Saint Hubert 5*, Ile d'Oleron
To book your pitch (in English), visit the Vagues Oceanes website.
Cote d'Azur
- If you are keen on exploring the Cote d'Azur with your tent, caravan or motorhome you may find Camping Les Rives du Loup well worth a visit,
for more information please visit www.rivesduloup.com
Brittany - 5* L'Orangerie de Lanniron offers pitches for your tent, caravan or motorhome. You can book your pitch online by visiting their website.

A full list of campsites can be found in our directory
Under Canvas, but not your own
If you are keen to sleep under canvas, but don't fancy travelling with your tent in tow, perhaps these alternatives will help.
Selectcamp's popular Lodge Suite, Lodge Tent or Chalet Tent, available on many of their campsites across Europe. Click here for more information on the Lodge/Chalet tent, destinations and to book.
Eurocamp's Safari Tent with 2 bedrooms, plenty of space, including a wooded decking area, will give you a great camping experience. Click here for more information on the Safari tent, destinations and to book.
Canvas - Maxi Tent will sleep up to 6 people and comes equipped with a kitchen. The Maxi tent is available on many Canvas campsites, including Chateau de Boisson in Languedoc. Click here for more information on the Maxi tent, destinations and to book.
---
---